(Died 2012) Artist, Illustrator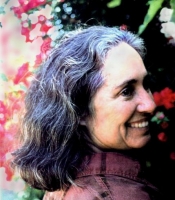 Carlin passed away peacefully in 2012. She was a great asset to the El Pilar Program and a wonderful friend and artist.
Inspired by artists who documented the voyages of discovery during the 18th and 19th centuries, Carlin's illustrations combine accurate scientific observation and artistic presentation. Using traditional art materials -- watercolor, gouache and graphite -- as well as the newer medium of colored pencil, she illustrated plants, insects, animals and archaeological artifacts in the same way as artists of the past.
Carlin began painting flowers at the tender age of three and rediscovered botanical art about in the early 90s. Since then, her interest in growing, identifying and illustrating native plants flourished. When the opportunity arose in 1995 to travel to Belize to illustrate tropical plants at El Pilar Archaeological Reserve for Maya Flora & Fauna, she was elated. After three field seasons and a multitude of field drawings and studio art, she was excited to continue her work with the project. "Because of the enormous diversity of plant species and habitats in this part of Belize, illustrating just the plants alone is easily an ongoing life's work and one I hope to continue."
A member of the Guild of Natural Science Illustrators, Carlin was also active as an illustrator for the Channel Islands Chapter of California Native Plant Society, and studied Ecological Restoration and Management at Santa Barbara City College.